Woo Hoo!!! Spring has come! Wow.... what a beautiful weekend we had! The weather was awesome. I did manage to squeeze in some crafting time in between spending time outside and watching basketball (HUGE UK fan here). I had plenty of things on my "To Do" list that I needed to complete before the weekend was over. One of my task was to create the layouts with the Brushed WOTG kit for my clubs. This paper is just absolutely gorgeous!! Maybe it is because I'm tired of grey skies and rainy days. The colors in this paper makes me happy. After finishing my layouts (I'll share those soon), I had plenty of compliments and paper scraps left to create this happy card.
The Brushed compliments are vellum. Aren't they pretty? I used the green journaling piece of vellum to stamp the word "happy" which is from the exclusive Brushed WOTG Stamp set. I used Staz-on ink so that it would dry quickly and not smear. The bunch of pink flowers in the left corner of the sentiment are vellum as well as the little layered flower in the bottom right corner. I kept my card simple but I did add a white metal flower from the Brushed Assortment.
I used leftovers from the Brushed Workshop On the Go Scrapbooking Kit and the Brushed Compliments to create this card.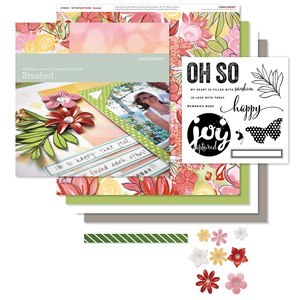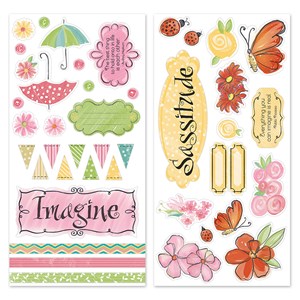 Brushed WOTG Kit - G1087 Brushed Compliments (X7190C)
I'm entering this card into the following challenges:
Close To My Heart's Weekly Challenge
‪#‎
jrlcreativechallenge
- Create a Happy Card
The Paper Players
Sweet Sunday Sketch #260