Wow.... Time sure does fly by!! My baby turned 21 today. We had an early celebration last night because she has such a busy schedule!! She is SO busy in fact, that when I asked her where she wanted to go eat for her birthday celebration (this is standard tradition in our house) she told me she just wanted a home cooked meal. In addition to her home cooked meal and home made birthday cake - just standard chocolate with buttercream frosting - I made her this card.
I loved this hexagon stamp
(Hexagonal Patterns)
and just had to have it. It's been in my box since August and this was the first time I've used it! I cut out all three sizes of hexagons and stamped them all up in lagoon, Pear, Black and Poppy. But when I finally decided on my card design, I was down using only the smallest hexagon and just Lagoon, Pear and Black inks. Sometimes too many choices can make things difficult! I used my Hexagon Embossing Folder to create a background for the card.
I cut the layered "Happy" shape and "Birthday" with the Artistry Cricut Cartridge. I used the Chevron hexagon to stamp across the bottom layer of the "Happy" Shape. I cut out two "BIRTHDAY"s - one in lagoon and one in white cardstock. I offset the layers just a bit and popped up some of the larger letters. I managed to find a few blue and green sparkles in my stash to jazz it up just a bit. I have tiny ones on the letters but they don't show up very well here. (It was a VERY rainy and gloomy day yesterday so not the best for picture taking in natural light)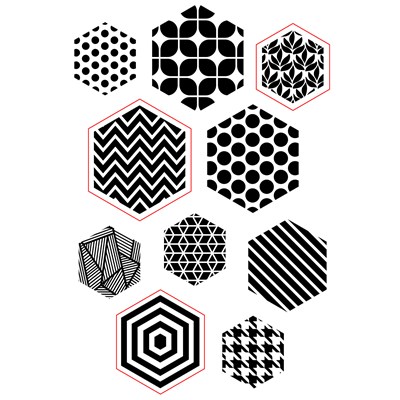 Hexagonal Patterns - C1626
One more birthday to go in November (my hubby) and then I can start thinking about Christmas Shopping!!