Here is another card to get you in the mood for some summer fun!
I featured the pineapple print paper from Calypso for this card and used the new One in a Melon stamp set. I cut the pineapple featured shaped from the Artistry cricut cartridge on Canary cardstock.
To stamp my fruit I used the rock and roll technique to give the fruit some shading on the edges. The piece layered behind the cut pineapple is actually one of the Picture My Life Cards that comes on one of the B&T sheets in the Calypso paper pack.
ok... now I'm ready for a fruity pineapple drink!
Products Used:
Calypso Paper Pack - X7210B
One In A Melon stamp set - C1650
Calypso Sequins - Z3215
Black Shimmer Trim - Z1809
Black Ink - Z2105
Pear Ink - Z2197
Canary Ink - Z2643
Artistry Cricut Cartridge - Z3167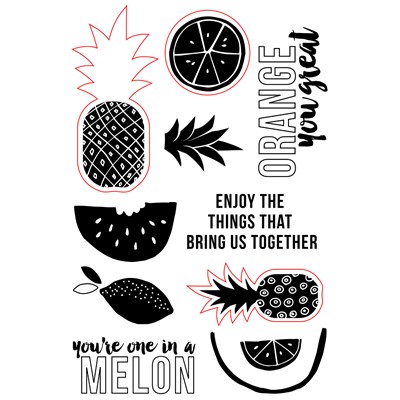 One in a Melon - C1650
Calyspo Paper Pack - X7210B