I do believe the Close To My Heart's Confetti Wishes collection is about the cutest I have seen in Birthday theme papers! I created this layout using the leftover papers from the Workshop On the Go Scrapbooking Kit for my clubs. They will create the featured layout in the kit and then they can create the layout I created here adding the Confetti Compliments and Confetti Assortments. (This layout can be done if you just purchase the paper pack and add two sheets of White Daisy Cardstock).
I started the base of the layout with Sketch #11 from Make It From Your Heart Volume 1. Instead of doing all the small photos I changed it up to use larger photos and added the compliments and assortments around.
I used foam tape under every other letter to make the pop.
Again, more foam tape under the balloons! (I LOVE Foam Tape!)
Here is a cluster of presents...... I started with the large blue present adhering it directly to the page. Then I added foam tape under the green present. Next, I added the rest of the presents around to make a nice cluster.
Products used for the layout: Purchase the WOTG Kit and add the Confetti Wishes Compliments!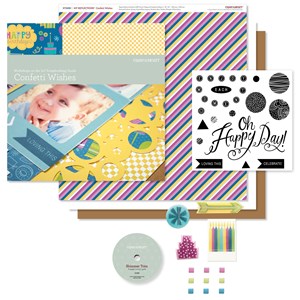 Confetti Workshop On the Go Scrapbooking Kit (G1086)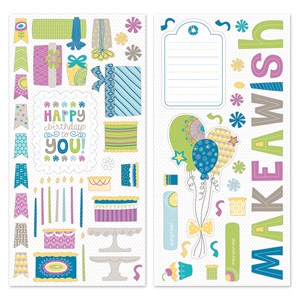 Confetti Wishes Compliments - X7189C
OR Purchase the Compliments, Paper Pack, Assortments and add Gold Shimmer Trim (Z1985)!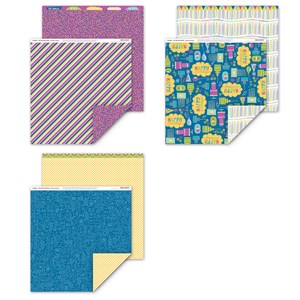 Confetti Wishes Paper Pack - X7189B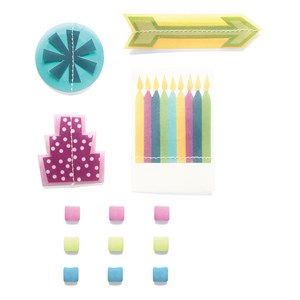 Confetti Wishes Assortment - Z2044
If you purchase the Kit and Compliments or the Paper Pack, Compliments and Assortments, I will send you the cutting guide and instructions for this layout for FREE!! All you have to do is place you order on my website. I will see that you ordered the products and will email you the PDF file!