It's been a beautiful day sunny day today and I just returned from having lunch with one of my best friends. I didn't have any deadlines to get back to so we sat outside on the restaurant's patio and had the best time catching up. We haven't had time in several weeks to get together so it was nice. We discussed kids, families, work (ugh) and then our favorite past time - creating!! I was feeling kind of crabby this morning so this was the best medicine for a pick-me-up. Friends are great - they can always bring a smile and a little more sunshine to your day.
After lunch I was excited to have a few free hours to myself this afternoon and couldn't WAIT to get home to create. I printed off a bunch of challenges that I wanted to participate in and sat down at my scrap table to really crank something out. And I sat..... and I sat..... I started out intending to create a card for one challenge and I began to go through my stamps looking for just the right one. I pulled out about three stamps. Then I sat some more.... and I sat...... hmm....... not feeling this at all. I kept going back to one stamp (a new one that I've never used before) but it didn't really fit the sketch I was going to use. I threw aside the sketch and just began creating something on my own using the colors from this week's Color Throwdown Challenge.
I think this card is a reflection of my day.... Mandy sure brought the sunshine today and I thank God that I'm so blessed to have friends like her in my life!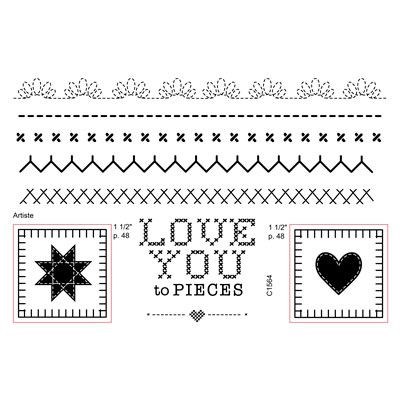 The quilt stamp is from
Stitch Wonder (C1564)
. This great little set has 5 different stitches on it plus 2 quilt squares and a sentiment. I stamped my stitching in Pacifica using the masking technique. First I inked only the stitches using the edge of my ink pad and stamped it onto the card. Next, I stamped the quilt square onto a sticky note and cut out the center. Using the piece with the stitching on it, I then stamped the stars and hearts in the cut out area using Pear, Sky and Buttercup inks.
The sentiment on the card is from
You Are My Happy
. This is an exclusive set of THREE D-size stamps available ONLY until September 30 for a special price of $10 when you place a $50 purchase.
Color Throwdown's
Inspiration Colors:
Hey!! I'm going to have a drawing for a FREE stampset on my StampinHeaven Facebook page! Here is what you need to do to enter!
1.
LIKE
my page -
https://www.facebook.com/StampinHeaven
2. Create a card with a Friendship theme and post it to my page.
On
October 5th
I'm going to randomly draw from all the participants that posted a card AND they LIKE my page! Winner will receive the
Polar Bear Holiday Stamp
for FREE!
Polar Bear Holiday